Because of the snow and slow business I get the whole week off work, how lucky am I? So Johnny and I took the time to reorganize our living room to make room for my new desk! Elara's room is next. She gets the love seat!
Here is the whole desk, there is a bar just above it and that is going to have some fabric and other what-nots storage. But I don't have that yet. I have already filled the little drawer unit with fabric, knitting needles, my glue gun and other assorted sundries!
Here are some closeups of the things on my desk, the wires are from my sewing machine
This beautiful pottery was a wedding gift from Cassie's parents. I'm going to use them on my desk till we get a kitchen of our own so I can see them everyday. The bowl I'm using as a kind of catch all. The large "utensil holder" I'm going to use as a scrap and thread catcher for when I'm sewing.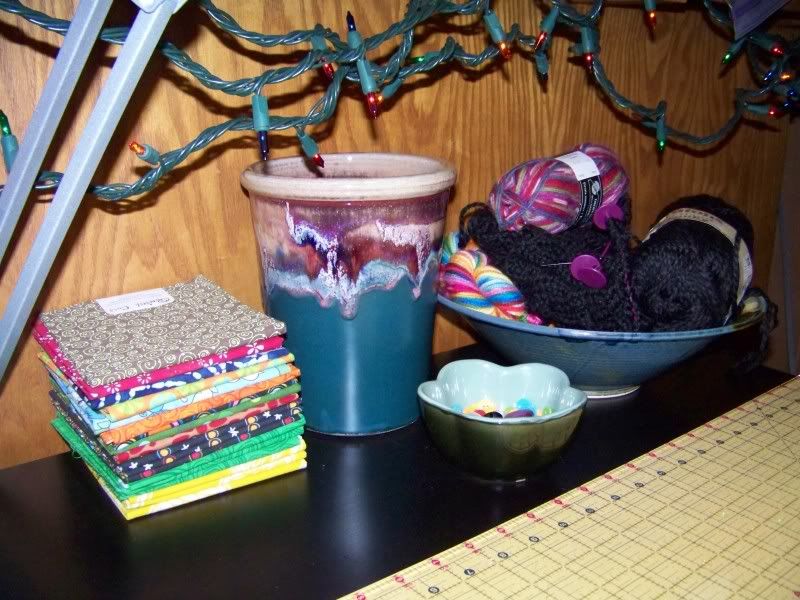 There is also an awesome lamp that I didn't get a really good picture of, but you can see the stand in the last picture. It is a long lamp that can move around and shine light at any point I need it on the whole desk. So cool! Johnny picked a beautiful desk, it is a great size and I can't wait to really break it in!